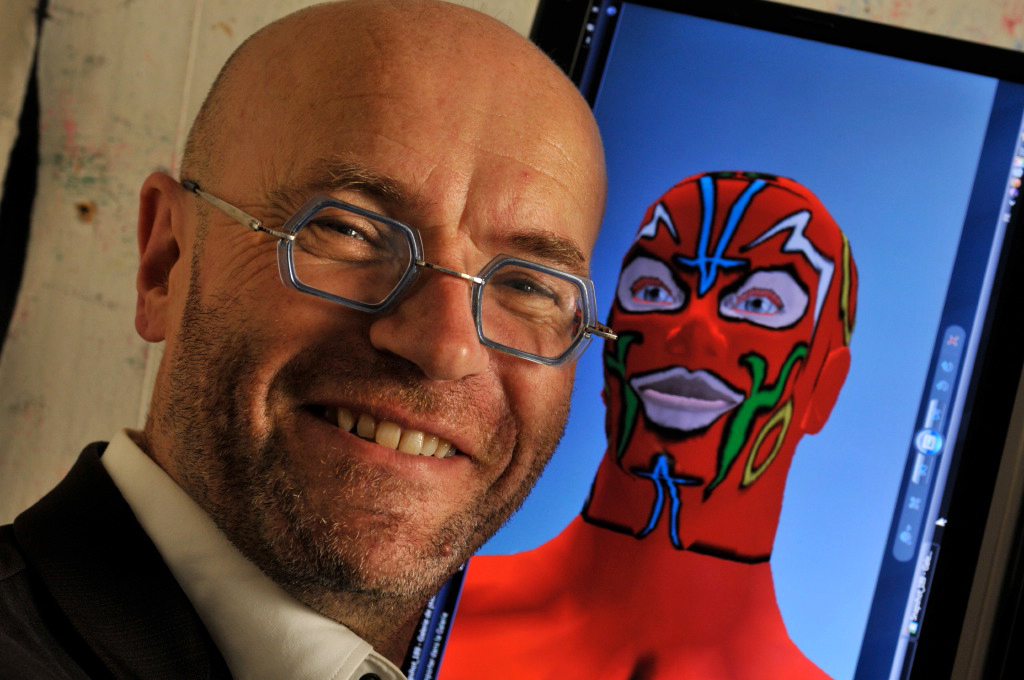 Patrick Moya versus moya janus (Photo : Jean-Charles Dusanter)
The guide of the Moya island in Second Life
To continue the illusion of a new world to visit, Patrick Moya wrote a Tourist Guide of his island, which tells in details the history of the establishment of Moya in Second Life.
He explains, for example, the construction of the old village of Moya overlooking the sea, with, on the top, the Moya Chapel (a copy of the Saint John the Baptist Chapel painted by Moya in Clans, a little village near Nice) or the Moya Club, which hosts the famous evenings techno "Dolly Party" whose Moya drew the mascot.
In addition to many Moya museums, the Guide also lists the "Biennale di Moya" (inspired from the real Biennale of Venice), or the various Moya shops, where nothing is for sale but are used to exhibit works made by Moya on the themes of fashion, optical, lingerie or wines. The same is true for the Moya Hospital or the Moya pharmacy. To enter the Moya Land, you dont need visa or identity papers, but you could make a "Moya Tour" by car in the presence of the artist.
The Moya island : a dream state !
The guide of the island Moya is available on the Internet at this address http://www.moyacircus.com/sltourisme.htm