Moya in Korea / the second life of "Ecole de Nice"




Sue Jeong Lee is coming from Busan, the second city of south Korea, a very quickly growing town beside Ocean. Like Nice (in the south of France), Busan is a beach city, and like Cannes, Busan has a famous international movies festival. This ultra-modern city has welcome Moya already in 1995 for a group exhibition about "Ecole de Nice" (a french movement of artists from the south), then for a solo exhibition in 2002.




And this, because of Sue Jeong Lee, a gallery owner became a specialist of "Ecole de Nice" : "It was a very successfull exhibition, who show the great possibilities of Moya on the korean art market".





Today in summer 2013, Sue Jeong Lee open a new important gallery-museum (2000 meters square) in Busan, Radium Art Center, with the project to show in Korea a permanent collection of artists from Ecole de Nice

(CÚsar, Arman, Sosno, Ben … and Moya in the young generation)
And she chooses Moya for the first opening, in august,

with a major solo exhibition where "Moya revisits the classics of european painting". Big paintings, but also big sculptures - indoor and outdoor, where a "Pink Dolly" of 8 meters welcome the people in front of the gallery !



With the sponsoring of a korean group, owner of the Paradise Hotel in Busan, Sue has big educative project : initiate Korean people to art history in a funny way. And for that, the art of Patrick Moya is the perfect way, because of his funny and poetic universe made for all ages, from 7 to 77 years old !

Like Sue says :

"I follow Moya since a long time, and I see his progress in new technologies, in particular in virtual universes like Second Life, and I found it very exciting. Unlike many contemporary artists, Moya make people happy, with a very colofull universe, full of imagination and humour, easy to understand …And more than that, I am impressed by his human attitude : like an artist, he is modest, simple, and he devoted his life to Art. And Korean people like this, the moderate and modest people !"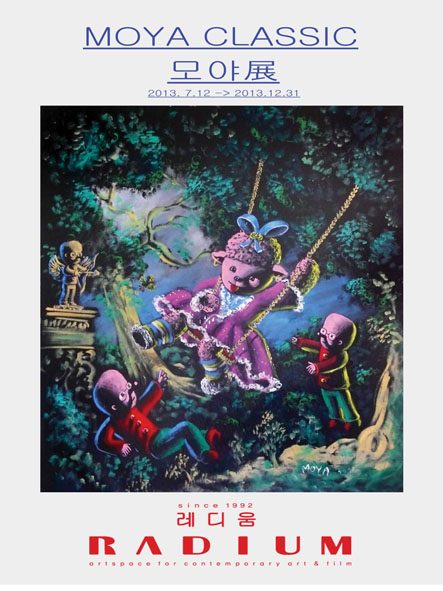 Moya classic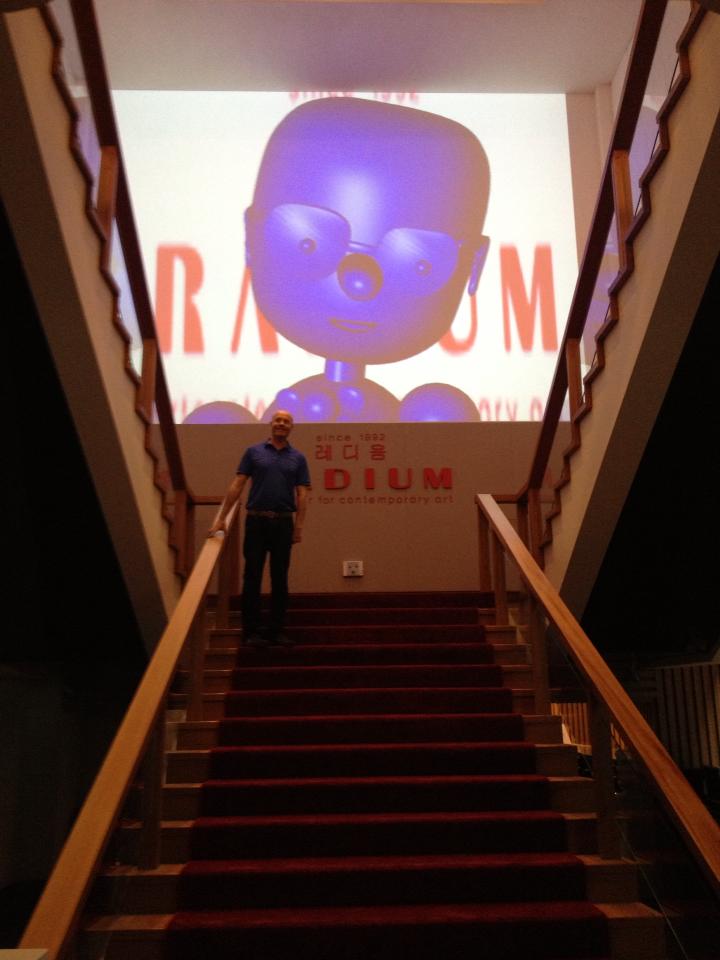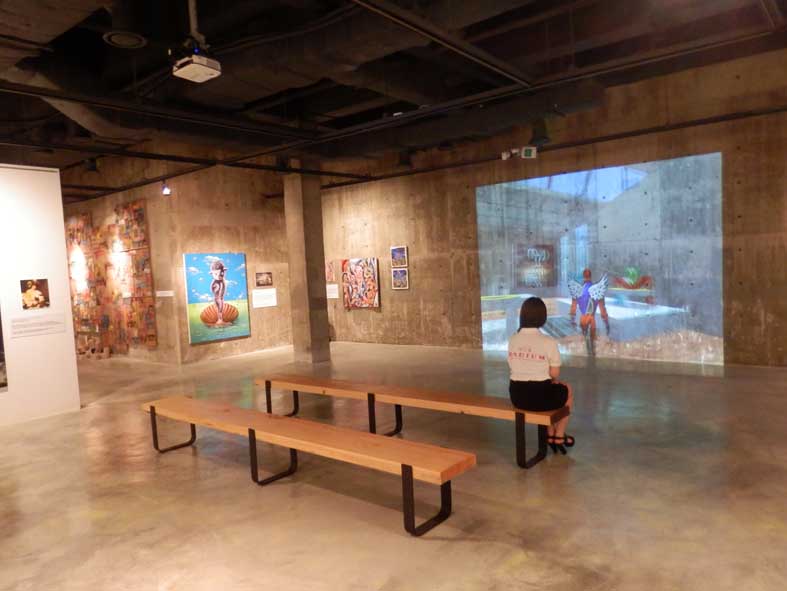 In his work, Moya has often made some allusion to art history, from his years of nude model (for the art students), where he posture the classics (for example Adam in "The creation of the world" by Michelangelo), or reinterpreting (in painting) Mona Lisa in a way extremely outrageous, or with a "Hello Mr. Moya" in reference to Courbet, and also with "The Angelus of Moya" in reference to Millet.
In the 90's, he use old images or etchings of the dictionnary for integrate them in colored canvas, surrounded by the 4 letters of his name.
In March 2007, Moya "dialogue with the art of Hendrick van Somer" … and with some students - by making a painting in reference to this artist's collection of the Museum of Fine Arts Jules Cheret in Nice.
In sculpture, too, Moya has often revisited the classics. With Michelangelo's David (Jacques Boulan collection in the 90s) or Diane Huntress (in 2011, for the Renoir Museum in Cagnes sur mer) - or at least their silhouette cut in steel, on which are fixed, in varied positions, the four letters of his name, red M, shaped like a sea gull or four-footed beast, yellow O, wheel-shaped or ring, green Y and blue A in various forms, scale or snake ...
Today, his presence in the virtual worlds offer new possibilities : this time, it's his avatar that is posturing, with the different characters of his universe, in an art work combining digital image and acrylic painting, virtual and real world.
Just like his "Angelus of Moya in Second Life", a big digital canvas with acrylic painting, showing his avatar posturing in the company of Dolly and the Donkey. This canvas was exhibited in May 2010 at Barbizon, in the context of "100 artists for the Angelus."
His avatar "Moya Janus" is for Moya a great inspiration : he is represented for example in parodies of german classical paintings - a portrait of Goethe or Caspar Friedrich Karl (The Traveler), in occasion of an exhibition in Cologne, Germany (Cologne Art Fair 2011).
Until this exhibit "Moya classic", where Moya can express himself in big formats, exploring the theme of "Moya revisiting the classics", from The Raft of the Medusa to Las Meninas (with Dolly in a dress !), through "Leda and the Swan-Dolly" or "Bacchus-Moya" inspired from Caravaggio ...



"Moya classic", Radium Art Center - Busan, South Korea, opening 20 august 2013






MOYA in Asia

In June 1991, Moya discovers Asia. This is the year where he participates

in Taiwan

, at its first symposium of sculptures for two months, making his first monumental sculpture (over six feet tall) with the letters of his name. It is still on display in the sculpture garden of the Museum of Modern Art in Kaohsiung.


Taking advantage of his presence in Taiwan, Moya also participates to a sculpture festival on the beach in Taipei - where he wrote his name in the sand.


From Asia, Moya remains strong colors, and chinese opera masks - he will use them, reinterpreted, in a series of "Masks for the Moya Opera" (1994).

And as Asia also appreciates him, Moya returns often expose in

Hong Kong

(CCDC et Alliance Franšaise, 1994; Visual Art Center in 2000, Muse Gallery in 2001 and Dorset House in 2002) …
And in Taiwan, where he created a new monumental sculpture, "calligraphy of Narcissus", for the Museum of Modern Art in Kaoshiung (1995) or" The presence of Narcissus ", for the international festival of sculptures in Kaoshiung, (2002).

In 2002, a gallery of Busan in Korea, Baek Dong Art Center (owner : Sue Jeong Lee), organizes for him a big two months retrospective, under the title "Holidays of Art." …


And in the summer 2013, Moya is back to Korea, in the new Radium Art Center of Sue Jeong Lee, with a major solo exhibition on the theme "Moya revisits the classics of european painting".