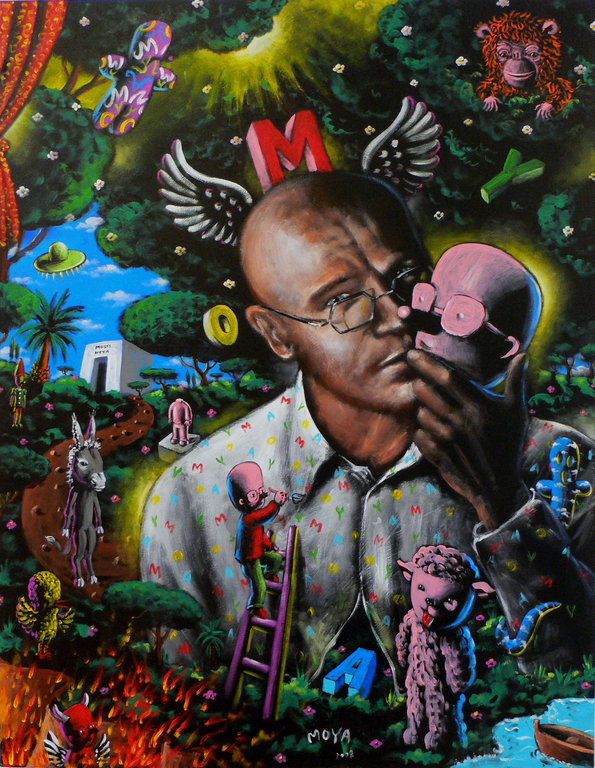 Bibliography
- Le cas Moya (éditions Baie des Anges, mai 2015)
- L'art dans le nuage (éditions Baie des Anges, 2014)
- Moya fait son cirque (Baie des Anges, 2013)
- Catalogue raisonné (ArtsToArts éditions, 2011)
- La civilisation Moya, (IEM, 2011)
- Le carnaval des animaux (Siranouche éditions, 2011)
- Le bestiaire de Moya (éditions de la Huppe, 2010)
- L'Abécédaire de Moya (MPO, 2010)
- Le guide touristique de l'île Moya (Ciais, 2008)
- La chapelle Moya (Mélis édition, 2007)
- Le cas Moya (Ferrero collection, 2006)
- MOYA, Catalogue complet (Cudemo édition, 2003)
Website :
www.moyapatrick.com
Wikipedia :
http://fr.wikipedia.org/wiki/Patrick_Moya
Contact :
moyapatrick@hotmail.com
BIOGRAPHY PATRICK MOYA 2019



Performer, visual and digital artist, Patrick Moya make an art mediterranean, funny, baroque, generous and delightful. In Nice (big city near the sea), where he lives, he representes the last generation of the artistic trend, « Ecole de Nice ».




Today, he mixes and remixes like a DJ, all existing media, old and new, but also constantly revisits his own work with the ultimate goal of « becoming a creature who lives in his artwork ». Like an alchemist, he wants to transform, not the lead into gold, but « the creator into a creature », which he explains through a very personal interpretation of McLuhan's theories.





Born in 1955 in Troyes from parents of Spanish origin, Patrick Moya studied art at the Villa Arson (art school in Nice), before posing as a nude model for drawing schools during ten years, with the aim of « becoming the creature instead of the creator".




He has read McLuhan and wondered with him about the changes made to the history of art by the new media: « With ubiquitous media, like the live television, the creator has no longer the time to tell the history of art; he must, in order to exist, become a creature ».




After this long episode where he plays the role of Narcissus, he begins his career by working on the letters of his name, MOYA, assimilating the artwork to the signature, during his Neo-Lettrist period, before creating (in 1996) an alter ego, his little « moya », a self-portrait inspired by Pinocchio, that allows him to exist in his artwork.




In 1998, he entered the Ferrero Gallery, known for defending the artistic movement « Ecole de Nice ».




His work becomes prolific, a personal universe is gradually emerging, an almost human bestiary, amusing with humor and poetry, who stands looking at the viewer. In 1999, appears « Dolly », a little « sheep conceived as the visual identity of the techno « Dolly Party » and who become one of the main characters of his « Moya Land ».




In June 2007, after four years of work, he finished the mural of a chapel that now bears his name in Clans (a small village in the Haut-Pays of Nice), and is now part of the circuit of artists' chapels.




Adept since the 2000s of live painting, Moya broke his record in 2013, during an Italian art fair, with a painting, made in two days, 27 meters long !




He is also known as digital artist since his first work on a MO5 computer in the mid-80s. He now owns a new virtual « Moya Land » in the 3D web of Second Life (SL).




In 2009, he participated in the « Virtual Renaissance »: it was the title of the first major exhibition of SL artists, which took place in the museum of anthropology of the Italian Renaissance city, Florence, where an entire room was devoted to the « Civilization Moya ».




In 2011, a new Civilization Moya was born on the walls of the art center La Malmaison in Cannes: a fresco installation of 90 meters long and 4 meters high that told his artistic adventure. This exhibition, reproduced identically in Second Life, allowed the visitor to meet the avatar of the artist and to travel with him in his virtual universe.





In summary, Moya is both classic and baroque, abstract and figurative, real and virtual, narcissus and generous, in love with popular shows like circus or carnival as well as the object of a catalog raisonné very serious tracing 40 years of creation (4200 listed works, 2011).





While continuing his artistic adventure in galleries in Korea (Busan), USA (Cape Cod), Italy (Caserta, Parma), Luxembourg and of course everywhere in France (Nice, Monaco, Marseille, Fontainebleau, Metz, Epinal ...), with « live painting » in art fairs in Italy (Padua, Genoa, Rimini…) or in Germany (Cologne), with some installations in Cerveira (Portugal), Utrecht (Netherlands), Malta or Modica (Sicily), more recently at Caserta (Museo di Arte, 2015), in Mantova in the Palazzo Ducale (2016, 14,000 visitors !), In Nice in 2018 (12,000 visitors for a great retrospective. In Turin (Italy) in the palazzo Saluzzo Paesana, on the theme "Dolly mon amour" (2018), or at the Reggia di Caserta (Royal Palace of Caserta), in the south of Italy (2019), where Moya became « Royal Transmedia » ... as well as in his virtual Moya Land and yet very real.





We find his works in public collections: A monumental (8 m) sculpture in steel (museum of Kaohsiung,Taiwan, 1991) , 2 sculpture and a big canvas (Mamac, Nice, 1996), 2 canvases on the theme of circus (Prince Albert 2 of Monaco), 2 big sculptures (city of Cap d'Ail, 2008), a sundial (Coaraze Village, 2008), a big sculpture (Cannes, 2011), a sculpture Dolly in steel (6m) in Busan (south Korea, 2013), a funerary Stele for Toddlers (Nice, 2015) … And also several sculptures in public space in Metz (bd de Trêves), a « Moyalisa » (Joconde) in the museum of ancient and contemporary art (Epinal, 2018) and a large canvas in an hospital (Pasteur 2 in Nice).





The art of Moya has become virtualized, as proved by his thought book « Art in the Cloud » (2012), while the virtual Moya Land has become real through mixed media mixing avatars made of pixels, 3D images, painting, pictures of paintings and reproduction in painting of derivatives products ... Or virtual characters printed in 3D.





In may 2015, a new biography is published, « le cas Moya » (« Moya case »), who proved the coherence of his work : Moya write his name (1979/1989) - Moya tags anonymous images with his name (1990 /1996) - Little « Moya » appears alone in his work (1996 /1999) - Moya create his 2D universe (1999 /2007) - Moya Master of his 3D universe (2007 / …).




The dream of Moya is coming true : to be Tintin rather Hergé, The Joconde rather Leonardo da Vinci … To be a Creature living in his art work, living a « second life » of a Creature playing to be an Artist.





Moya's art virtualize itself (as you can read in his book "Art in the Cloud », 2012), while virtual Moya Land become real, with new mixed art works made of avatars, 3D images, painting, photography of paintings … Or via virtual avatars printed in 3D !